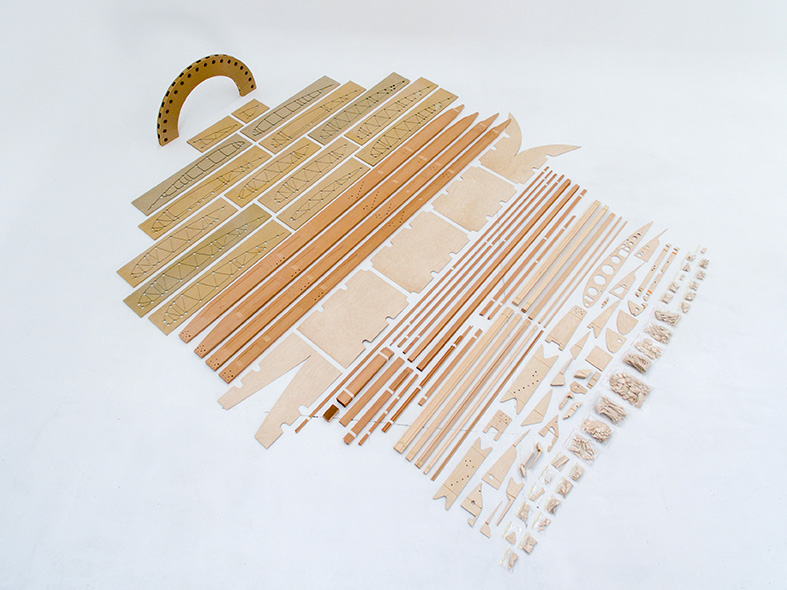 Fairchild 24 – Wing Wood Kit
As no complete drawing sets exist for the Fairchild 24 wings, this kit is the culmination of over 800 hours of reverse engineering and development. No corner has been cut and every effort has been made to ensure this kit produces an exact replacement for the original wings. Essential for certification in most countries.
The entire wing has been reverse-engineered in CAD and with all ribs lofted from several original wings and the few readable surviving drawings. The prototype kit was assembled in-house to ensure all parts fit perfectly, allowing us to correct all errors for future kits.
The Fairchild 24 wing at first glance may look like a relatively simple structure, however, anyone that has built one will tell you, it's not. Despite a relatively straight wing chord, there are no more than 2 ribs the same in the entire wing. This is largely due to the compound tapered root end, rounded tip, split flaps, Frise ailerons, fuel tanks, internal bracing, pushrod, and cable control runs, making each rib unique. The complexity continues with no less than 24 different sections of milled spruce stock and at least 4 different plywood sheet thicknesses in the assembled wing.
For a LIMITED TIME ONLY, we can offer a wing wood kit for $12,900 USD which includes:
Hand-selected Sitka spruce and Douglas fir stock, precision milled to the required 24 different sections.
561 beautifully CNC routed plywood parts from 4 different thicknesses of quality Finnish birch plywood.
Accurate CNC routed plywood leading edge skins from quality Finnish birch plywood.
Preformed laminated Sitka spruce wing tip bow. (Jig no longer supplied due to freight costs)
CAD lofted; CNC routed rib assembly jigs ensuring the highest accuracy.
CNC routed rib cap steam bending jigs.
CNC routed drilling jig for the flap hinges to ensure perfect alignment.
Printed high-quality assembly drawings developed on CAD.
wooden shipping crate.
Wing Kits are sold as individual wing panels, in either left hand or right hand and individual rib or component kits are also available upon request where only minor repairs are required.
Please note – Spars are not included in the standard wood kit. A spar cutting service is available from customer-supplied timber stock.